Model V-5 Fixed Slat
Perfect for covering facades to give the building an avant guarde touch. It is also ideal for closing openings between walls, fencing gardens and as a traditional system for closing ventilation openings, all while allowing a good entry of light.
Thanks to its easy installation, the supports are fixed vertically and the slats are then clipped directly to the supports.
The step or separation between the slats is standard.
Optionally, side plugs can be fitted.

Wind Load Resistance
UNE-EN 13659:2004 Wind load resistance
UNE-EN 1932:2001 Performance criteria including safety
Supports

DOUBLE SUPPORT SELF-TAPPING [SCREWS]
Maximum Installation Distances
* When this distance is more than 1.500 mm, ask us for information about the most suitable structural frame for your installation..
* NOTE: If the distance is greater than those shown, a structural profile must be attached to the surface according to the project.
* Test performed with dual 40×40 support.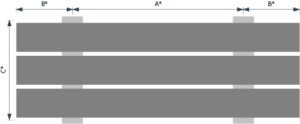 Section